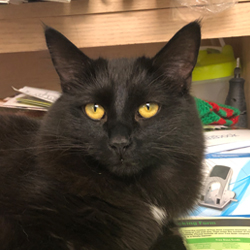 Rescued from the Shelby County Jail by our local Santa Claus, Grayson was part of a litter of 5
kittens, but the only black and long haired one. Grayson's litter was brought in a few months
after Parker's litter was. Both litters were raised together. Grayson has a sweet and loving spirit
and enjoys playing and socializing. He was adopted by Arlington Animal Clinic after the sudden
loss of our amazing clinic cat Black Cat (lost his short battle with metastatic intestinal
lymphoma). Grayson continues to carry on many of Black Cat's responsibilities, which include
raising orphaned kittens, greeting clients and helping kids and dogs become more accepting of
cats.