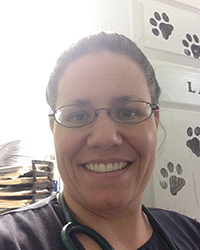 Monica Schoknecht, DVM.
Dr. Monica Schoknecht is a 2000 graduate of Mississippi State University. She was born and raised in Jackson, MS. Growing up, she participated in swimming from the age of 6 well into her college career. During her junior year of high school, Monica attended the Mississippi School for Mathematics and Science, which is a state funded boarding school in Columbus, MS for junior and senior high school students who excel in math and science. Before entering college, she was accepted into the Early Entry Veterinary Program, which fast tracked her undergraduate studies, finishing her BA in Animal Science in 3 years, and allowed her acceptance into vet school upon completion of her undergraduate degree without having to go through the grueling application/interview process.
During her veterinary school education, Dr. Schoknecht participated in several externships in various setting. These included: an 8 doctor, 24 hr small animal care facility in North Carolina, a rural small animal clinic in Port Washington, WI, an all cat clinic in Gainesville, FL, and SNAP (Spay/Neuter Assistance Program) in Houston, TX. Each externship offered different experiences for her to learn from. Upon graduation in May 2000, Dr. Schoknecht went to work for Horn Lake Animal Hospital in Horn Lake, MS. After a very busy and educational year as a new graduate, she moved to Cordova, TN and went to work at VetPets Animal Hospital. During her 3 years as an associate, Monica became more knowledgeable and confident with her skills. In September 2004 she purchased Arlington Animal Clinic and laid down roots in Arlington, TN.
In her spare time, Dr. Schoknecht enjoys volunteering for HARP (Homeless Animal Relief Project) in Senatobia, MS where she helps spay, neuter and provide much needed medical attention to the dogs and cats whose owners are unable to provide for their care. She also enjoys participating in Career Day at Arlington Middle School and Arlington Relay for Life.
At home, Monica enjoys spending time with her 9 cats, all of which were rescues from various situations. She also enjoys spending time with her family in MS, MN and WI. To help her relax, Dr. Schoknecht will often cross stitch, bake, garden, or curl up with her cats and a good book.