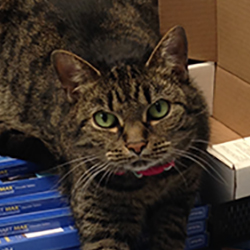 Millie
8 years old
During her morning drive to work, Cindy passed a golf course and saw a little kitten in the rain. She stopped, opened her door, and Millie jumped in. Though rarely seen by clients, Millie is an affectionate cat to the employees, but is a total diva towards other clinic cats. Her favorite past time is fighting with Tabitha or protecting the employees from pens, needles, syringes, exam gloves and other odd objects that she finds and carries around in her mouth.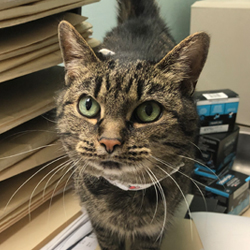 Tabitha
4 years old
Tabitha (aka Tabby, aka Tiny Tabs) was part of litter dropped off unexpectedly. Her and her sister Daisy were the only two not adopted and because part of our family. Tabitha and Daisy were inseparable until Daisy's unexpected death at 2 years old. Tabitha has had to adjust to this and still hasn't bonded well with any other cats, just the humans. She has spent time living with Dr. Schoknecht and her cats, but is now back to living with the clinic cats. Tiny Tabs' favorite activities is chewing plastic, knocking over treat bags until we open them for her and licking toes of clients when they were flip flops.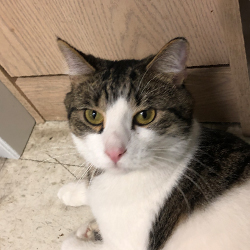 Parker
1 year old
Part of a feral kitten litter from a rural park in MS, he almost lost his life from a severe upper respiratory infection. After a month of medical care and treatment, our staff was bonded with Parker. On the day he was to return to his cat colony, we lost our beloved Moo and couldn't bear to let Parker leave too. Parker was named for his original feral cat colony caretaker Mrs. Parker. He loves to play with his brother Grayson and catch mice.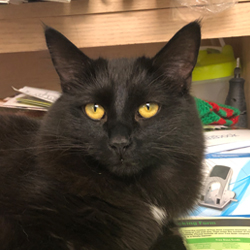 Grayson
1 year old
Rescued from the Shelby County Jail by our local Santa Claus, Grayson was part of a litter of 5 kittens, but the only black and long haired one. Grayson's litter was brought in a few months after Parker's litter was. Both litters were raised together. Grayson has a sweet and loving spirit and enjoys playing and socializing. He was adopted by Arlington Animal Clinic after the sudden loss of our amazing clinic cat Black Cat (lost his short battle with metastatic intestinal lymphoma). Grayson continues to carry on many of Black Cat's responsibilities, which include raising orphaned kittens, greeting clients and helping kids and dogs become more accepting of cats.